Dr. Benjamin Winter was invited to share his expertise at the Murdoch University in Perth/Australia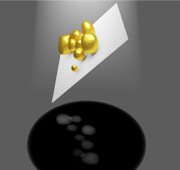 Dr. Benjamin Winter, an Expert in Electron Tomography graduated from IMN, was invited by the Murdoch University in Perth/Australia to give a presentation about his research. "Sharing knowledge and expertise with researchers around the globe is an integral part of science" – Dr. Winter says – "Therefore I am glad that I have been given the opportunity to travel to Perth to meet many new friends and have insightful discussions about our research".
The host of the seminar, in which the talk was given, is Senior Lecturer Dr. Gerd Schröder-Turk, who previously has completed his habilitation at the FAU Erlangen-Nürnberg. More Information on the Seminar can be found here.