Dr.-Ing. Yolita Eggeler received award from StMWK for her outstanding PhD thesis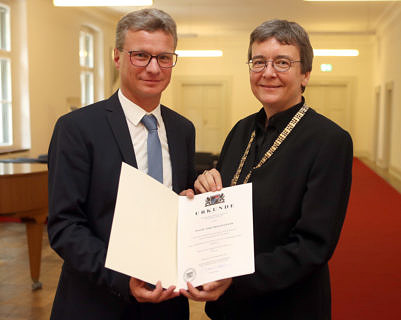 The Bavarian State Ministry for Science and the Arts (StMWK) annually awards five prizes for outstanding university degrees or doctorates to engineering students at Bavarian universities. The prizes are endowed with 2,000 euros each. The award honors the impressive achievements of female students in their field and at the same time encourages other women to study engineering. University of Bavaria e.V. is eligible for two prizes, Hochschule Bayern e.V. for three prizes.
"I congratulate the award winners on their success. We need more women engineers like them who bring excellence and innovation to their excellent expertise. We can not do without the know-how and creativity of women in engineering. With their passion for engineering, they are the role models for future students and future designers of tomorrow! "Emphasized Minister of State Bernd Sibler.
The winner of the technical faculty is Dr.-Ing. Yolita Eggeler. She obtained her doctoral degree from the Friedrich-Alexander-University Erlangen-Nuremberg at the Chair of Micro- and Nanostructure Research. Since then, she has been postdoctoral researcher at the Materials Department of the University of California at Santa Barbara. In her thesis entitled "Nano- and Microstructural Evolution in Ni and Co-based Single Crystal Superalloys" (finished in 2018), she was able to contribute fundamental scientific knowledge and new methodological developments to the microscopic understanding of single-crystal superalloys and their high-temperature behavior.
The award was presented by Vice President Outreach, Prof. Möslein.
This article is an English translation version of the original press release in German found in the following:
https://www.stmwk.bayern.de/pressemitteilung/11746/.html
https://www.tf.fau.de/2019/10/forschung/presiverleihung-fuer-hervorragende-hochschulabschluesse-promotionen-von-studentinnen-der-ingenieurwissenschaften/
The picture is adapted from the press release of the StMWK from 30.09.2019