SEEM 2022 workshop will continue online on 07-08 Dec. 2022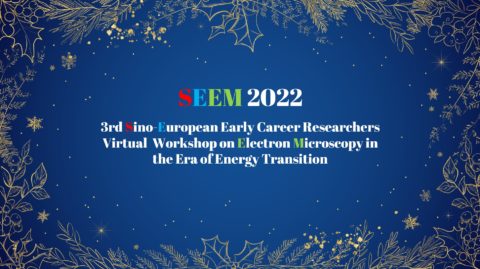 Following the successful past two Sino-European Early Career Researchers Virtual Workshop on Emerging Techniques and Applications in Electron Microscopy (SEEM) that attracted 300+ registrations from 20+ countries and 100+ organisations in 2020 and 2021, respectively, we are pleased to announce that the 3rd of this series workshop, SEEM 2022, will take place again in virtual format on 07 – 08 December this year.
In the past year, much of the globe has faced shortages and soaring prices in energy supply in the aftermath of the pandemic, the war, as well as a variety of factors. This unfortunately slows down the transition process to more sustainable energy sources. In view of this, we slightly adjust the theme of this year's workshop to Electron Microscopy in the Era of Energy Transition and will focus on energy-related applications (Session I, first day) as well as cutting-edge methods (Session II, second day) using advanced electron microscopy.
This workshop is organized by IMN staff scientist Mingjian Wu together with Pei Liu (Technical University of Denmark, Denmark) and Penghan Lu (Research Centre Juelich, Germany). The SEEM workshop is sponsor-free, free of charge for participation, and aims to offer a bilateral forum for electron microscopists in Europe and China to discuss the latest progress. Each scientific session consists of six to seven invited talks given by early career researchers and young PIs.
The programme also features a topical forum, Avenue towards the next phase – career advancement for early stage researchers. A distinguished scientist and a senior research adviser will share their perspective with the participants followed by a live panel discussion.
We cordially invite colleagues to join us via a free registration at http://shorturl.at/iGI19 (or scan the QR code below) and look forward to spending an inspiring time with you!
The detailed proceeding of the workshop is now available via this link.